RedGuard
RedGuard, a Kansas-based company, is fully operational on 9 leased acres at the Port of Iberia. RedGuard is an expert in the design and build of blast-resistant buildings for base camps, field offices, sleeping units, restrooms, medical units, sensitive equipment and more. They can accommodate most customer requirements and create customer-specific modifications. RedGuard continues to work with local vendors for support services and are discussing a possible expansion in the near future.
Custom Compression Systems
When Custom Compression Systems located their business at the Port of Iberia, it was the perfect choice for them due to its strategic location for shipping. They have direct access to the Gulf of Mexico, the Port of Houston, the Port of New Orleans, inland locations by barge via the Mississippi River and on into areas of the Northeast. Custom Compression Systems is the only gas compression packager in the United States with this unique capability available from their facility. Custom Compression Systems offers oil and gas processing equipment and pre-engineered gas compression systems to both domestic and international markets both onshore and offshore.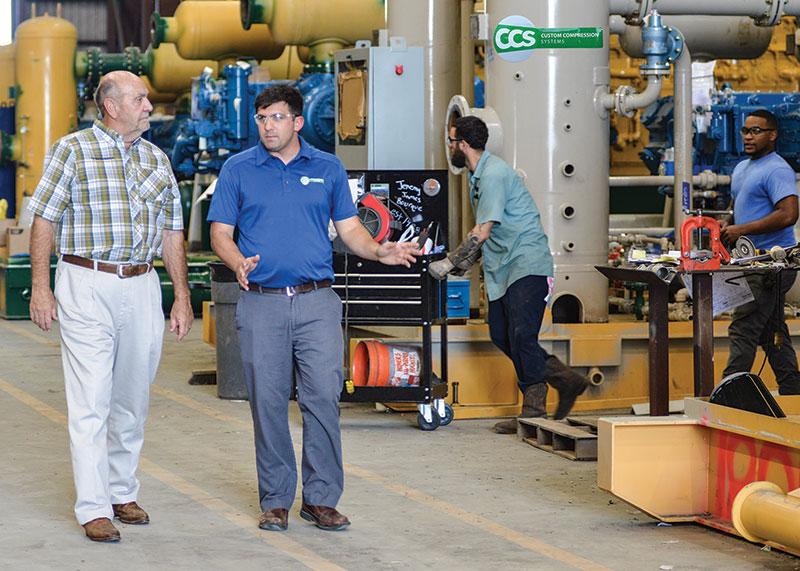 Dynamic Industries, Inc
Dynamic Industries, Inc. is busy working on a project from a repeat customer, one of the world's largest energy companies. They are fabricating 92 pre-assembly modules, (54 pipe racks, 28 steel structures, 7 stair towers, and 3 cable racks) for a polyethylene plant located in Pennsylvania. It is projected to be complete in mid-2019. Dynamic was also recently awarded a contract to supply 38 pre-assembly modules, consisting of Inside Battery Limits (IBL) and Outside Battery Limits (OBL) piperacks for a Propylene Oxide (PO) and Tertiary Butyl Alcohol (TBA) plant located in Texas. Once installed, these critical building blocks will help produce 470,000 metric tons of PO and 1 million metric ton of TBA. This project is the largest capital investment project for this new client. It will begin in January of 2019 with completion set for December of 2019.